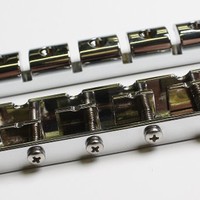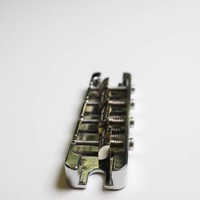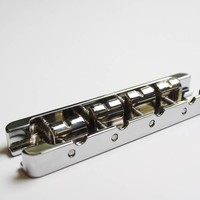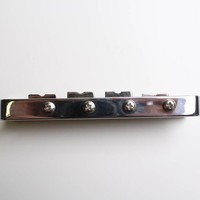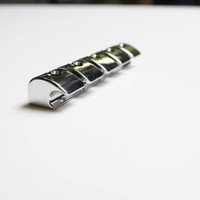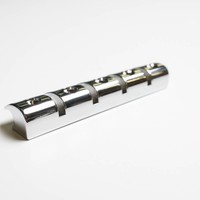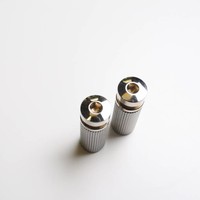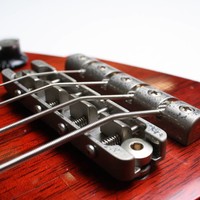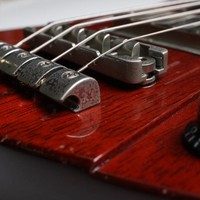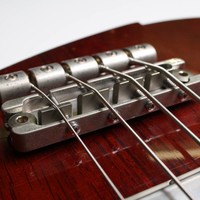 De Gier Guitars Lowlander bridge
The bassbridge of the De Gier Lowlander is our own interpretation of the Thunderbird bridge, with several innovations.
More information
Specifications
The goal for the Lowlander bass was to build a T-bird style bass, without the notorious T-bird issues. For the bridge we had the same goal. Both bridge and tailpiece could use some updates.
Tailpiece
Although the original tailpiece looks very cool, it has 2 problems: a partially round bottom surface and just 3 short screws. String tension willl pull it away over time. The 3 screws don't hold it in place and because of the partially round bottom surface the tailpiece 'rolls' towards the bridge.
The Lowlander tailpiece has the same cool looks, but with a flat bottom surface (and a little larger too) and 5 screws. The screws are also longer.
Bridge
Original bridges are rather narrow, so they have a short travel to intonate. Often intonation is way off. They can also bend through, because the material is rather thin, and they easily corrode.
The Lowlander bridge has the following characteristics.
1) The steel is thicker, it is more resistant to downward pressure, so will not bent through as easily.
2) It is wider, allowing for more travel for intonation.
3) The backside has small halfround notches cut out, so that the strings don't press on the bridge.
4) Intonation screws are placed ex-center, to provide better access for a screwdriver to adjust them, without having a string in the way.
5) Intonation screws are stainless steel, so no more crusted saddles.
6) The studs have an allen-head, in order to make height adjustments more easy and sustainable.
7) The saddles are steel, for a strong and bright tonal character.
Other details
-The Lowlander bridge has shiny chrome plating.
-The stringspacing is 19mm.
-The saddles follow a 12" radius.
-For installation of the bushings we offer the following advice. If you want to drill holes, you best use a 29/64" drill. If you use cnc routing we advise 11,5 mm diameter (equivalent of 29/64").
-The Lowlander bridge was not designed to be a direct replacement bridge for existing basses. If you'd like to replace the brug on a T-bird with a Lowlander bridge, you'll likely have to do some minor modifications. No problem for an experienced luthier or repairman.